Mary Halvorson is a knotty player, a guitarist with an unadorned tone and an approach that could almost be called unmelodic. She specializes in jazz lines that lurch and twist and abrade the ear, finding freshness by avoiding the very musical familiarities that most listeners, well, enjoy.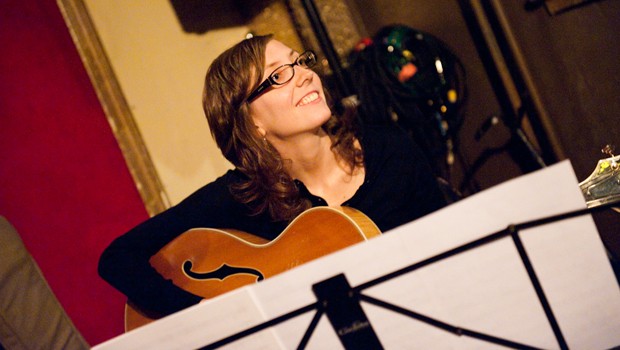 Except that, in this avant-garde approach, Halvorson is finding fresh ways to sound great, to write catchy tunes, and to put a fire of urgency into hearing jazz in a new way.
Bending Bridges
is the second beautiful and urgent recording from her quintet, with trumpeter Jonathan Finlayson, saxophonist Jon Irabagon, bassist John Hébert and Ches Smith on drums. The band plays with precision and fire on a series of Halvorson tunes that entertain and tell stories. Every track here sounds like a journey: with repetitions but also fresh horizons, with sweeping vistas and moments of pure road momentum.
Bending Bridges
hasn't the foggiest idea of how to bore you.
Read my full PopMatters review HERE.
Among the great things about the construction of this band is the way that Hébert's woody bass tone contrasts with Halvorson's unadorned guitar or her subtle forms of distortion. "That Old Sound (No. 27)" is for guitar trio only, but the sense of dynamic range is extreme. Hébert is natural and lovely in laying down the harmonies, and then the guitar continuously distorts and bends, with Halvorson laying in strange effects and supplementary tonal variations such that it almost seems as if the whole quintet must be hiding inside her Guild's hollow body.
Halvorson, in the final tune on
Bending Bridges
, makes her very unconventional technique span the precise and the peculiar. "All the Clocks" could be a tune from Eric Dolphy's
Out to Lunch
but it could also be the product of a "post-rock" experimental outfit like Tortoise. A tiny bit prog and a whole lot free, a decent part tuneful but a whole dollop adventurous, the Mary Halvorson Quintet is an ideal modern jazz ensemble.
Fans of the today's beyond-category jazz should be lining up for this music, but so should indie-rock fans or guitarheads or noise-rockers or any other music fan who cares to hear the daring mix with the heady. This is another great record from an outstanding band. May they keep coming.