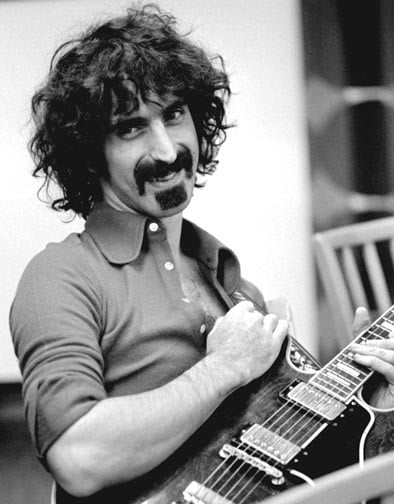 As a young jazz fan growing up in the 1970s, I had an inevitable fascination with the music of Frank Zappa. For me, Zappa was a kind of jazz musician. This was before Zappa was mainly known for chiding the Parents Music Resource Center, of course, but it roughly coincides with a time when Zappa was known to teenagers for a being a kind of novelty song guy. 1974's "Don't Eat Yellow Snow" (from
Apostrophe
) was even on the radio.
But for me Zappa was synonymous with his 1971-72 albums
Waka/Jawaka
and
The Grand Wazoo
, which were mainly instrumental and seemed like everything I loved about jazz at the time,
plus
a whole lot of what was cool about that classic-era in rock. To a 13 year-old boy, in short, HEAVEN. (Also, I was obsessed with Jean-Luc Ponty's 1969 record
King Kong: Jean-Luc Ponty Plays the Music of Frank Zappa
, on which the budding fusion violinist played Frank's tunes with Frank on guitar. So hip!)
And I still feel that way about Zappa. He was the smartest, funniest, most serious, most not-taking-himself-seriously guy in music. And yet he took his music very seriously.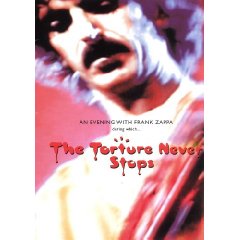 'An Evening with Frank Zappa, The Torture Never Stops' (reviewed by me here on PopMatters)
is a DVD containing the complete, Zappa-produced footage of a concert at New York's Palladium Theater on Halloween, 1981. What a band! Steve Vai is searing on guitar, and Chad Wackerman is doing everything on drums. They play tunes from all across the Zappa spectrum to that point, with Zappa singing a bit, playing his guitar a bit, and also doing plenty of conducting with a baton. The music is literally non-stop, as one tune runs directly into the next in perfect, super-precise succession.
Seeing the music made before your eyes will renew your sense of how complex and detailed Zappa's music was. The rippling runs on harmonized marimba and electric guitar and analog synth send chills down your spine. At least they do to mine.
I still love Frank and his music. Here is a great walloping, live dose of it. Delicious!